Open Horse Show for all Ages & Riding Levels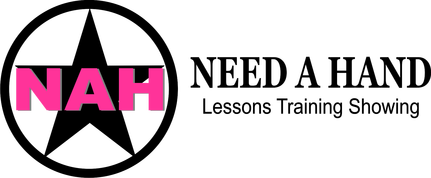 NAH open horse show series
ONLINE Entries are available at
​www.horseshowing.com
2017 Awards Banquet Oct. 28th 6:00 PM
2017 Show datesApril 29 CANCELLED Rain Date July 1st

May 27

Held at NAH in Murfreesboro

July 1st Held at NAH in Murfreesboro (Makeup)

July 29 Held at Tennessee Livestock Center in

Murfreesboro (stalls available Friday Night)

Stalls available at TLC for $25/stall Shavings $8/bag

September 23

Held at NAH in Murfreesboro

October 28th Awards Banquet and Chili Cookoff

Show Entry Form
Save time by printing and filling out your entry form before the show day.
Emailed forms will be accepted for the July 1st show until Noon Friday June 30th these ENTRY'S will RECEIVE the pre-entry discounts

Show Information & FAQ's
​Welcome to the NAH Open Show Series! We hope the information below will help answer any questions you may have!
​
Is the show held Indoor or Outdoor?
​All of the shows held at Need A Hand are held in the outdoor arena with schooling available in our Indoor arena. Both arenas are 100 x 200. The show held at the Tennessee Livestock Center is held in an Indoor Air Conditioned facility.
​Are the Stall available?
​We do not currently have stalls available at the Need A Hand facility for use during the show. There are stalls available at the Tennessee Livestock Center for overnight use on Friday only and Day use on Saturday.
​
Do I have to register online?
​No, you do not have to register online to participate in our show series, however, by doing so you receive a discount on entry fees and the Office Fee is waived. Plus you will be in and out of the show office with more time to prepare your horse!
How do I register online?
​Visit www.HorseShowing.com and search for NAH Open Show Series. This will bring up our show along with the Online Entry access. HorseShowing.com does charge a small fee for online registration. You can subscribe for an annual subscription or per show subscription. NAH waives the office fee for all online entries to offset this cost for our competitors. You still save $$$$ by registering online!
What do most people wear to show?
​Typically most competitors wear schooling show attire with polos and breeches in the Hunter Seat classes and either polos or collared western shirts for western and Ranch. On occasion we do have some riders that will dress in more formal show attire however it is not required. Good clean working attire and tack is what is desired.
​
Is this a good show for my first show or my horse's first show?
​ABSOLUTELY!! Our show is designed with first time rider's and horse's in mind. The goal of this show is to have a place where riders and horses can show and compete while working on their individual skill set. We want to provide a fun safe place to show that will help you advance to the next level of competition.
What rules do you follow?
Below is a copy of our Rulebook. It is a great place to start to help answer any questions you may have about specific classes and what each class is looking for.
​If you have more questions please email me at CourtneySmith8386@gmail.com and I will be happy to help any way I can!
2017 Rulebook for NAH Open Show Series
​
Click Here for a PDF Version