CHA CERTIFIED RIDING INSTRuCTOR
​cOURTNEY smITH

---

JOIN US! RIDING LESSONS ​YEAR ROUND

​

All Ages 3 & up
Tiny Tots 3-5 (starting in August)All levels of experience
All Levels of WesternReining
English Flat & Over Fences
Reputable ReferencesOur lesson program is unique from others as we have a riding level system that each rider progresses through during the riding instruction with the multiple instructors at Need A Hand Horse Training. Each new student undergoes an initial evaluation so that we can accurately place them in the lesson environment that is best suited for their individual needs and riding goals. Thru periodic skill testing students can then advance to higher riding levels based on evaluation of skills mastered.Our Level System gives students definite goals to progress towards. Parents are able to see the progress of their child as each new skill learned is checked off their list.Pricing
​UNLIMITED PACKAGE!!!$200 for Unlimited Monthly Group Lessons
​

Our unlimited package is a way for riders to advance their riding skills with more consistency and time in the saddle. Practicing with a purpose through correct instruction and consistent riding time will help our riders reach their goals at an accelerated pace.

*Package must be scheduled before the 1st of each month, NO Refunds, or rollover credits. Use it or lose it.
​Family Group Riding Package
$200 for 8 Lessons

This is a great package deal for those families who would love to learn and ride together! 8 group lessons to be split amongst the immediate family any way you like. Great for siblings, moms, grandmothers, dads and brothers to all get their barn time.

*Package must be scheduled before the 1st of each month, NO Refunds, or rollover credits. Use it or lose it.

​

Trail Riding Lessons

Available August 1st we will have select days designated for Trail riding lessons at various locations for our riders to get real world experience on the trail. Excellent for riders who own their own horses and would like to fix those irritating trail behaviors from jigging, spooking, not standing quietly, buddy sourness and more. This is also a great way to get some excellent training tips to use outside of the arena to improve your horses performance and brokeness inside the arena. Locations for each trail lesson will be specified in the lesson notes.

*Trail Lessons due to their limited availability do not fall into the Unlimited Package but maybe used with the Family Package.

Group Trail Lessons $50 1.5-2 hr ride time
Private Trail Lesson $50 1-1.5 hr ride time​Discounted pricing for lessons purchased as a monthly series​Private Lesson

$50/1 HR or $180 for 4

​$30/1/2 HR or $100 for 4

​

Group Lessons

$40/1 HR or $120 for 4

​IEA Members
​

$25/1 HR IEA designated Lesson

​

​

Lesson Forms

​To help answer the most common questions regarding lessons just click on our Lesson Policy Form to access the barn rules, cancellation and payment policies

You can also access our riding release to print out and sign before your first lesson

​

Lesson Policy & Barn Rules Form

​

Riding Release Form




​

2017 Summer Camp DatesAll Camps are FULL for 2017

FULL DAY & HALF DAY FOR ALL SESSIONS

​June 5- 9 Everything Horses Ages 5-13 Session 1

June 12-16 Everything Horses Ages 5-13 Session 2

July 10-14 Everything Horses Ages 5-13 Session 3

​July 17-21 Advanced Camp 13 & up Full Day ONLY

​​

Start times8:30-4:30 Full Day Monday - Thursday Friday 2:30PM
​Friday's Horse Show begins at 1:00PM

​8:30-11:30 Half Day

Prices

$225 Full Day

(register by May 30th for $30 discount! $195!!)

$125 Half Day

​
​Camp price includes unlimited water, craft supplies, personalized camp photo, Camp Tshirt & unlimited Knowledge and Fun!

*No Early Drop OFF
*Students Provide their own Lunch and SNACKS
*Water Provided

​Needed Forms

(Click Form Name for a PDF file)

​

Campers Checklist

​

Riding Release

​Everything Horses Camp

​This camp has been our biggest camp each year so we have decided to give you 3 sessions of "Everything Horses"!

​Campers will learn basic horsemanship and care while also learning about the different types of riding styles including Western, English, Jumping, Barrel Racing, and many more.

​Each day campers rotate through a series of educational stations that will teach them more about horses and the riding style they are learning that day. Campers ride in a group lesson setting and will ride twice a day.

​We believe in teaching all aspects of horsemanship not just riding so campers can expect to get lots of hands on experience. They will learn how to properly feed horses, clean stalls, care for their equipment, study anatomy, exercise physiology, and behavior. Our educated and CHA certified instructors make learning fun and easy to understand for all ages and riding levels.

​While education and safety are top goals we can't leave out the FUN! Campers will participate in horse themed fun games and crafts as well as the all time favorite WATER DAY!

On Friday of each Camp week we end with a mock Horse Show for all our family and parents to come watch and see how much our campers have learned all week.

---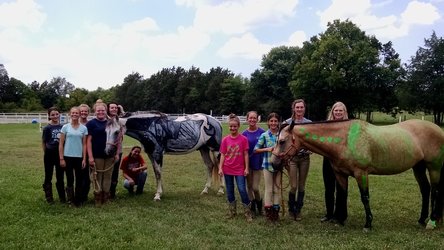 Advanced Camp Limit to 12 Riders
(campers must have previous riding experience and be able to walk trot and canter on an unfamiliar horse in a group setting)

​Advance Camp is a fast paced intensive learning environment. This camp is designed for the rider that is looking to improve their horsemanship skills and broaden their knowledge. We will learn groundwork techniques, horse behavior, nutrition, and ride both western and English.

High intensity, Lots of saddle time, lots of sweat!
---
Horses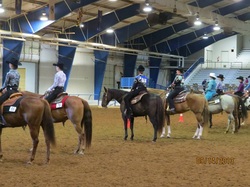 Lessons may be taken on your horse at Need A Hand Horse Training or on one of our fabulous lesson horses.

The opportunity to ride your horse with instruction gives you the ability to fix riding issues for you and your horse and build on the relationship and foundation you have already.

Let me help you get a more polished look for the show ring or just help you gain more confidence in the saddle.

Riders interested in joining the IEA team must have ONE year of riding instruction from an approved instructor to be eligible for competition per IEA rules. We are currently accepting new students in preparation for next years team so if you would like to find out more about Team Need A Hand please visit our IEA team page or contact us via email or phone.
---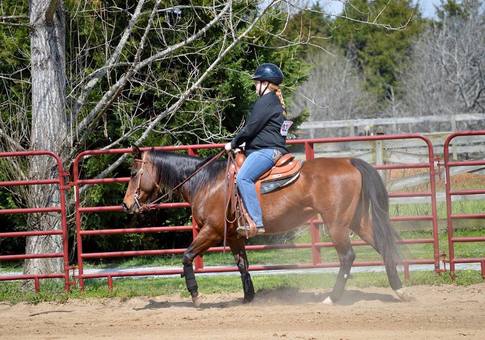 ONLINE LESSON SCHEDULING!
All New students are required to set up an Initial Evaluation prior to scheduling a lesson. Please contact us via email CourtneySmith8386@gmail.com or phone 423-309-8386 to set up your Evaluation time.
Once a Skills level has been assigned students may sign up for lessons online Thru our Riding Portal at
https://www.equilesson.com/needahandhorsetraining
Instructors and lesson availability may be done online. Always be able to track the available lessons, see which lessons you are scheduled for, receive notices and/or cancellations along with horse assignments!
Please let me know if you have any questions!
---