Upcoming Events
Open to the Public!
Bring your Friends and lets learn about horses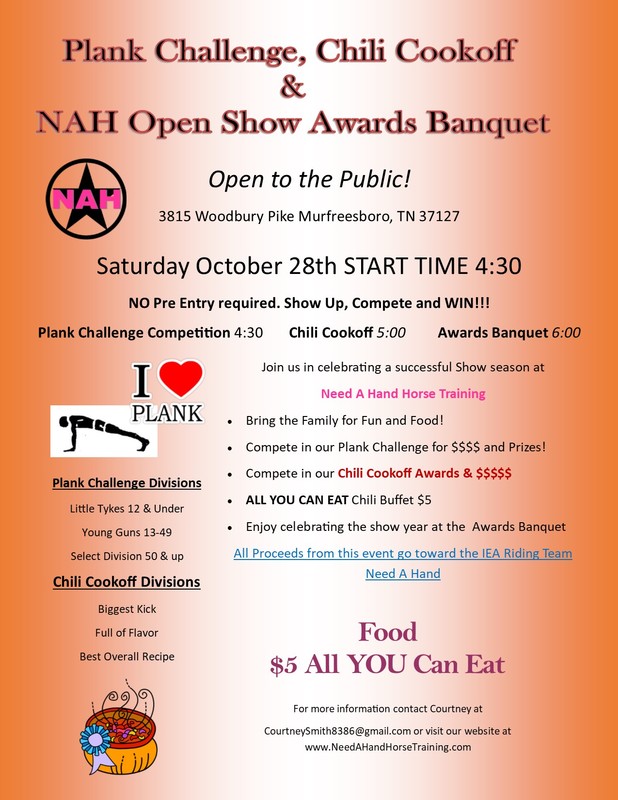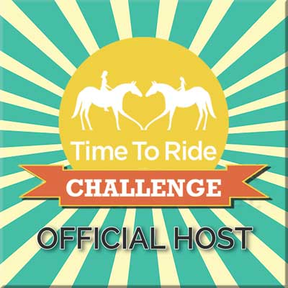 ​
​Need A Hand Horse Training
is Participating in the 2017
Time to Ride Challenge

Event 4: 10 Years of Celebration
When: August 12th 10am-2pm
Where: NAH 3815 Woodbury Pike Murfreesboro

Pony rides, Riding Demos, Hands on Education Stations, Games & More!

Focuses on welcoming newcomers to horseback riding this summer as part of nationwide effort.

Murfreesboro, TN May 13, 2017, Need A Hand Horse Training has entered to compete in the Time to Ride Challenge by welcoming newcomers to horse activities this summer, beginning May 1st, 2017. The Time to Ride Challenge is a program that aims to welcome thousands of new enthusiasts to horse activities across the country. Created by the American Horse Council's Time to Ride initiative, the Challenge involves stables, horse businesses, and organizations like Need A Hand across the country who believe that horse activities can contribute to the health and well-being of all Americans.

Need A Hand Horse Training boasts of a progressive riding lesson program for both youth and adult students. Offering a variety of riding disciplines focusing on safety, effective teaching and a fun learning environment. Disciplines offered include Western riding: Ranch, Pleasure, Horsemanship and Reining as well as English including hunter seat and jumping. Our facility is also the home of Team Need A Hand- Middle and High School Interscholastic Equestrian Association teams for both Western and Hunter Seat competitions. Our equine staff are passionate and professional making their number one goal education and quality care of the horse.

Families feeling the pressure of busy schedules, technology takeovers, and social media overload can find an outlet in horse activities – perhaps after-school riding lessons for the kids, a girls' day trail ride for mom, a family vacation to a dude ranch, a date with friends to go to the races, or an outing to a horse show. Spend time outdoors, reconnect with nature and each other, and learn a new skill! Connect with a horse to disconnect with the pressures of everyday life. Need A Hand's summer camps are a great way for kids to not only learn about riding but develop lasting friendships and develop life skills. Their adult classes are a great way to relieve stress, improve flexibility and fitness levels while finding your inner child. Perhaps it's time to reconnect with the horse to find the benefits of equine activities. The horse can bring the family together in an activity that is part work-out, part therapy session and part pure exhilaration.

Courtney Smith is proud to introduce newcomers to horses through a variety of events and activities. NAH Open Horse Show Series (open to spectators free of charge), youth summer camps, and the Interscholastic Equestrian Association team are just some ways to become involved with horses. To learn more call 423-309-8386 or visit www.NeedAHandHorseTraining.com




---
For Sale
Need A Hand occasionally offers horse for sale through consignment from current clients or from our own personal string. We strive to match each horse with the appropriate rider. Interested buyers are encouraged to visit our facility and ride each horse multiple times to ensure a proper fit. We pride ourselves in representing each horse to the best of our ability. Vet checks are welcomed at the purchasers expense. All horses being sold are current on Farrier, Coggins and Worming.

​Please contact Courtney with any questions you may have regarding the available horses we have for sale.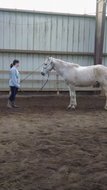 $1800 obo
​Pepper is a flea Bitten Grey Quarter Horse Gelding. He does sale as "grade" with no papers.
Current on Coggins, Teeth, Vaccinations, and feet
Aprox. 14.3 (I have not put an actual tape on him)
Has primarily been a trail horse for most of his life. Has groundwork training, loads well in a small straight load 2 horse bumper pull. Walk, trot and canters on cue. Does not always get his right lead but will with help and encouragement. Will need work on leads if buyer wants to show. Great Walk Trot horse. I would not recommend him for a timid beginner rider only because he goes when asked and will try a true beginner. A confident rider even with limited riding can do fine with him. He is very responsive when asked to slow down or stop. This guy is just honest and broke without any fancy bells or whistles. Would be best suited as a trail horse or for a walk trot playday horse. Sweet personality. Does best when turned out with Geldings. Has previously lived in with mares and only issue was he was top dog. Currently here he is the bottom of the pecking order. Owner has stepped up to a more advanced horse only reason for selling.
Video available on YouTube Click Here
​
---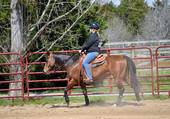 SOLD!
$1500 ​Smokes Lena Tari
2000 AQHA Bay Mare
​ Current on coggins, farrier, teeth and worming. Super quiet and broke for all levels of riders. Has a great handle on her and will ride one handed in a curb for western or 2 handed in snaffle for English. Has spent the past 2 years as a lesson horse with multiple youth showing her locally in Open shows in Showmanship, Ranch classes, reining, trail, Hunter Under Saddle and Equitation. Previous owner was a youth that also showed her in 4H and Ranch Horse. Show record with AQHA indicates being shown in team penning as well. Would be a perfect horse for someone looking for something to start out riding or just wanted to trail ride. She is great under saddle and very willing but does tend to be in the top of the herd in the pasture. Not aggressive just confident she is in the top. Has a stocking up issue with right hind leg that will swell if staying in a stall. We manage the swelling with no issues thru standing wraps when she is stalled or showing. Does not cause her lameness and does best with turnout. This mare has been put on the back burner of our program and as well are downsizing our herd she is on the list for rehoming. Had not been ridden in over 4 months and rode her last week just like she had been riding everyday. Loves trail riding and favorite gait is the walk. Come check her out she is worth the ride.
Click here for Youtube Video
​
---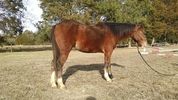 SOLD!!
Alex 4yr old QH Gelding 14.1 hands UTD on shots, worming, coggins and farrier
Great Trail horse, Quiet with super sweet and willing personality, Still young and learning but very broke with a great start and foundation. Loves trail obstacles and enjoys jumping. Has been strarted with pole work and trotting crossrails. Will make a great youth all around horse or perfect trail horse. Click Below to see videos.
​
Western Video
​
English Video
---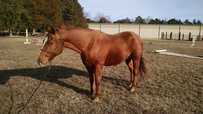 Sold:
Watch "Scooter" Go 2004 AQHA Reg. 14.3 Gelding Current on coggins, farrier and worming. Great Trail horse, has been used as a lesson horse, shown locally at Open shows. Big stout Gelding that would make a great rope horse. Nice slow jog, knows his leads, sidepasses. Video Available. Contact me for more info or to give him a try.
Click Her for Video
---
All horses are sold as is with no warranties or guarantees unless expressed in writing via sales contract.